03.02.20

|

Book Reviews

| by

Rev. Mark Harmon
Early in the introduction to A Credible Witness: Reflections On Power, Evangelism and Race, Brenda Salter McNeil asserts that evangelism and reconciliation are inseparable. She sees them as "two sides of the same coin." McNeil repeatedly reiterates this point in the first four chapters and, as such, this would seem to be the key emphasis of this book. As evangelist our role is to not only to explain the saving work of Christ to others, but to also invite "them into the household of God." This is the evangelistic model Jesus provided for us throughout his ministry. It is a model that transcends barriers of race, religion, gender, socioeconomic classes and political positions to demonstrate God's love.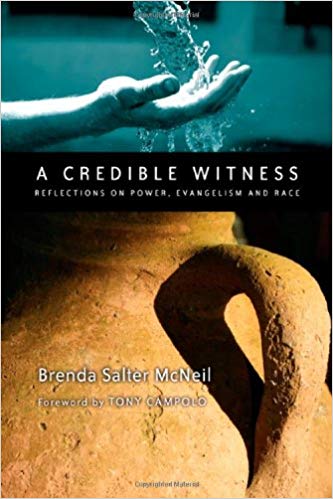 Throughout the rest of the reading, McNeil uses the story of Jesus' encounter with the Samaritan woman at Jacob's Well in Sychar to illustrate how to merge evangelism and reconciliation in our efforts to carry out the Great Commission. As I proceeded in the reading, I noticed that McNeil does not leave the reader in suspense as to what it takes to become this type of evangelist. The titles of each chapter make it clear. In the first chapter, the title is "Know My Context To Know My Story." In this chapter McNeil explains how Jesus' understanding of the historical issues between the Samaritans and the Jews and the power imbalance between men and women enabled him to know that she had a poor self-image and that poor self-image was at the heart of her flawed life choices. Just as Jesus was physically thirsty, she was spiritually thirsty. Like Jesus, we need to understand what forces shape the personality and spirituality of those we are witnessing to.
In the second chapter McNeil identifies how important it is to follow God's direction. In the story of Jesus and the Samaritan woman, we are told that Jesus "had to go through Samaria" (Jn. 4:4). The author explains that Jesus had other paths he could have taken that would have bypassed Samaria – paths that any good Jew would have chosen to avoid entering the land of the hated Samaritans. McNeil sees this choice of routes as Jesus' response to a mandate from God. However, she also understands this path was necessary if Jesus was to bring the "ministry of reconciliation to the Samaritans." As McNeil explains, this is relevant for us today as we carry out the ministry of evangelism. We may want to avoid going into certain parts of the town we live in or even other parts of the world, but, if we are going to bring reconciliation, that is precisely what we must do. This is how she summarizes it: "life-changing evangelism…begins with God – in the heart of God. Compelled by the love of God for us and for the world, we choose to follow the divine mandate to cross gender lines, racial barriers, denominational divides, political affiliations, age separations and class distinctions."
As she moves on to the third chapter, McNeil identifies the intentional nature of evangelism that is evident in Jesus' decision to situate himself at the well. Knowing that fetching water was a woman's job, it is apparent that Jesus knew he would encounter a Samaritan woman in that location. He also knew that, at midday, he would not be seeing the respectable women of the community who would only come to the well in the morning or evening. Anyone coming to the well in the heat of the day was trying to avoid social contact – they would likely be an outcast. McNeil once again sees a lesson for us in this part of the story. Jesus put himself in the path of this woman and this tells us that we have to meet people where they are – go into the marketplace, the neighborhoods, the athletic fields and sometimes to a foreign land. We have to meet people rather than expecting them to meet us.
The fourth chapter focuses on giving up our place of power by acknowledging a real need we have that the other person can satisfy. In Jesus' case, he was thirsty and by asking the Samaritan woman for a drink, he gave her the position of power and put himself in the dependent role. Too often we approach the candidates for our evangelism with an attitude that we are going to give them what they need. In doing so, their value is diminished in our eyes and theirs. By this simple act of asking for a drink of water, Jesus "affirmed [her] as a person of worth and value." This not only opened the channel of communication for evangelism, it initiated the process of reconciliation and it provides an effective model for us today.
The emphasis of the conclusion is on the corporate nature of evangelism. Rather than thinking in terms of converting individuals, we need to understand the Great Commission as "a corporate and cultural mandate." McNeil identifies the progressive nature of this form of evangelism and cites Acts 1:8 as proof. There Jesus says, "But you will receive power when the Holy Spirit has come upon you; and you will be my witnesses in Jerusalem, in all Judea and Samaria, and to the ends of the earth" (Acts 1:8). In this statement, she sees our evangelistic efforts moving outward from our place of origin to unfamiliar places that are far away. McNeil notes that, "This movement outward also represents increasing challenges and cultural barriers."
One of the early insights in this reading came when McNeil discussed the two dimensions of evangelism. There is the vertical dimension that is indicative of our reconciliation with God and this is a dimension that we certainly need to communicate. However, there is also a horizontal dimension that describes our reconciliation with others. When these two dimensions intersect, we have a cross. McNeil says without the horizontal dimension, we only have a stick. She feels that we have too often used the ""stick approach" to evangelism" with the intent to force people to change the way they live. This neglects an important aspect of evangelism – "inviting [others] to join God's family and to join forces with what God is doing in the world."
Another important insight was the discussion of "Nice But Not Necessary" to clarify our motives for inclusion. When we include those who are different just because we are curious or because it fulfills our mission statement, it affects the credibility of our witness. McNeil sees our credibility as "witnesses of the gospel" as being dependent on our ability to cross the typical barriers that divide us.
---
Brenda Salter McNeil. A Credible Witness: Reflections On Power, Evangelism and Race, Downers Grove, IL: IVP Books, 2008. 159 pp. $17.00. ISBN 978-0-8308-3482-2.