11.13.19

|

Book Reviews

| by

Rev, Rene Jensen
In his memoir Open: A Memoir of Faith, Family, and Sexuality in the Heartland, Scott Jones writes of coming out as a Baptist youth minister in Texas.
Scott Jones had always wanted to be a minister. When he was in first grade, his teacher asked the class to draw a picture of what they wanted to be when they grew up. Scott writes: "I drew a stick figure of no artistic merit. In the drawing, I am standing at a pulpit, preaching. Just below and to the left of the pulpit is a row of pews. And on the first pew I drew my mother, sitting and listening with a smile on her face." (p. 4)
For Scott, ministry was a core truth of who he was. But as he became increasingly aware that he was gay, Scott feared that being honest about his sexual orientation would mean he would be forced out of ministry. He also feared what coming out would mean to his large, conservative family of evangelical Baptists, recalling that when someone once asked his mother if Scott was gay, she had replied that if he were she would have to kill herself.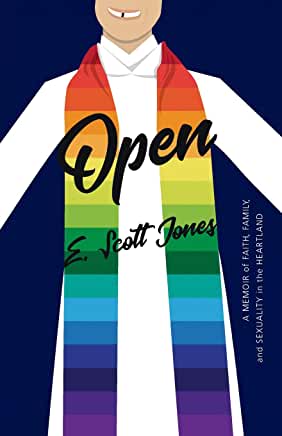 Scott writes with painful honesty about his struggles, including the effect his coming out had on his large extended family and his battle for acceptance within his family as well as within the church. He also talks frankly and sometimes humorously about his forays in the gay dating world and into gay culture. (You'll learn the proper way to tip a drag queen.)
Open is Scott's personal story but it is also a universal story about family and faith, about the failings and successes of the church, and about the LGBTQ struggle in conservative Oklahoma and Texas in the first decade of the 21st century.
This book is in Saint Andrew's Church Library
---