01.04.21

|

Spirituality

| by

Rev. Mark Harmon
Henri Nouwen was a Dutch Catholic priest as well as a college professor, theologian and prolific writer. Although the manuscript for this book was not prepared by Nouwen, Michael J. Christensen and Rebecca J. Laird have assembled his "words and wisdom" (p. v) to form this book that was published a decade after Nouwen's death. The sources used for this book are varied and diverse – some published previously and some that were unpublished. According to the acknowledgments, this task took two years to complete and it was authorized and supported by the Henri Nouwen Literary Trust. As the title implies, this is a book that deals with spiritual direction. Direction in this sense is not a noun – it is not a set of directions or a path that one is to follow – it is a verb. Spiritual direction involves a relationship between one who is more experienced in the faith and one who is less experience. In this relationship, the more experienced person is "willing to pray and respond with wisdom and understanding to [the less experienced person's] questions about how to live spiritually in a world of ambiguity and distraction" (p. vii). This relationship does, however, reveal the paradoxical nature of the spiritual life – it requires both solitude and togetherness.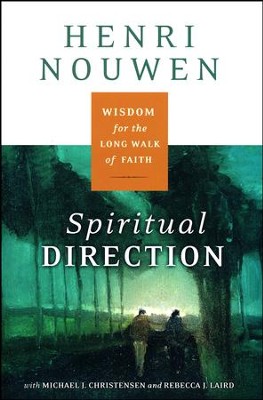 In the introduction, Henri Nouwen explains that effective spiritual direction leads to an "ever-increasing capacity to live a spiritual life from the heart" (p. xiii). The path to such a spiritual life includes "discipline, practice, and accountability" (p. xiii). For him, the three spiritual disciplines (or practices) are: "(1) the discipline of the Heart, (2) the discipline of the Book, (3) the discipline of the Church or community of faith" (p. xiv). The remainder of this book is divided into three parts with each part dealing with one of these three spiritual disciplines or practices. Each part poses questions related to the spiritual discipline or practice and at the end of the discussion of each question are exercises that can be used to put what was learned into practice.
In the first part we are challenged to "Look Within to the Heart" (p. 1) which is a process of introspection and contemplative prayer. The goal is to "move from absurd living" (p. 17) to obedient living. In sharing the etymology of the word absurd, Nouwen explains that absurd living is living in deafness – not hearing "the voice that speaks to us in our silence" (p. 17). Conversely, the origins of the word obedient are found in "the word audire, which means 'listening'" (p. 18). We must be able to listen for and to the voice of God if we are to live a life in obedience to God. It is the times of introspection and contemplative prayer that we are able to hear the voice of God. Nouwen acknowledges the challenges to listening to God, but calls us to increase our attentiveness and this is where a spiritual director can be helpful. As we begin to listen to the voice of God within us, we will become more and more aware of the fact that we are loved by God. In addition, we become more aware of our history with God and where the trajectory of that history will lead to.
Part Two moves to the task of looking to God in the Book which involves a second form of prayer – a dialog with God. Nouwen begins the discussion by explaining his views on the nature of prayer – unceasing, crying out to God, a conversation with God and a time of contemplation. He then moves on to explain the disciplined practice of prayer. To pray effectively requires a set time and place and the ability to focus. While focus is important, Nouwen also acknowledges the reality of distractions in our lives and provides suggestions for ways in which we can deal with those distractions. Above all, we need to faithful in our practice of prayer. However, prayer will not be of much value if we have not understanding of the nature of our relationship with God. In his examination of the question: "Who Is God for Me?" (p. 71), Nouwen responds with the characteristics of God found in traditional theology. The final question in Part Two is: "How Do I Hear the Word?" (p. 87). Here Nouwen identifies four ways in which we experience the word of God. The first is in "the life and teaching of Jesus" – the "Living Word" (p. 87). Secondly, we experience the word of God in "the written word, which is Holy Scripture" (p. 87). The third way in which we experience the word of God is through the "spoken word (rhema), which flows forth from a prophet" (p. 87). The final way in which we experience the word of God is one that Nouwen adds to the traditional list. It is through "writing the word" (p. 87) which is a creative process in which we "come in touch with the Spirit of God" (p. 99).
Part Three then deals with the spiritual practice of being part of a faith community. Nouwen describes this as a "relationship to the people of God, witnessing to the active presence of God in history and community" (p. xvi). We are created to be in community – that is where we belong and Nouwen believes that the solitude of our spiritual life "calls us to community" (p. 112). It is only through solitude that we truly come to know ourselves and knowing ourselves is essential to being part of a vibrant community of faith. With that said, living in community can also be difficult and Nouwen explains that it includes the need to be forgiving. On the other side of forgiveness is celebration and "[celebration] is a very concrete expression of love" (p. 124) which is the glue that holds a community together. The ultimate expression of "living in communion with God" (p. 131) and with God's people is a life of service. According to Nouwen, acts of service are "the overflow of your love for God and others" (p. 131). However, ministry is not an individual industry – it "is a communal and mutual experience" (p. 132). The communal/mutual nature of ministry is only possible in a community that is characterized by "gratitude and compassion" (p. 133). How do we cultivate gratitude and compassion in our lives and in our faith communities? Nouwen says it is "through the twin disciplines of downward mobility and voluntary displacement" (p. 137). Both of these are counter-cultural behaviors in our society.
This is generally a helpful book, but one that needs to be read slowly and with a contemplative mindset. There are two key insights that I found in reading this book. The first is the idea that writing is a spiritual discipline that can put me in touch with God. As I reflected on this, I could see how that has been the case in the past, but I often overlooked it. The second was in Part Three when Nouwen talked about the need for the twin disciplines of downward mobility and voluntary displacement" (p. 137). It is not that this is necessarily a new insight as much as it is a reminder of the need for servant leadership. I have to confess, having spent the majority of my life competing in the business world, this has been somewhat a struggle for me. Even though Nouwen did not provide much in the way of instruction on how to achieve downward mobility and voluntary displacement, just having the terms and the explanation of them gives me a starting point for exploring these characteristics of a life of service.
---
Nouwen, Henri J M., Michael J. Christensen, and Rebecca Laird. Spiritual Direction: Wisdom for the Long Walk of Faith., San Francisco: Harper San Francisco, ©2006. 174 pp. 978-0-06-087274-8.