---
When I arrived at St. Andrew CC in the middle of May I knew I was coming to a new church in the midst of a pandemic and it would be less than ideal. We had made plans to seek connection with one another with letters and Zoom calls. About 8 days into this new call, May 25, came the killing of George Floyd. The entry process became quickly different. It would be less important for me to worry about making the transition and more important to respond as a congregation to this horrific death of another black man that was totally unnecessary.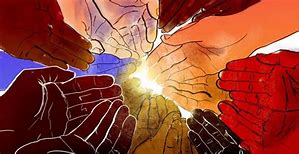 Protests and social media posts were energy-filled to give voice to the hurt, pain, and on-going racial inequity that has been going on for way to long. It is sad to say that matters of racial strife, struggle, and inequity have been embedded in the journey of our country from the beginning. We have had periods of time in our history when we have risen to the challenge of equality for all people with the Emancipation Act, rights to vote, and Civil Rights. Unfortunately, the predominately white race has not, as a whole, stayed the course to continue fighting racial inequities. For those who are in the racial majority our tendency is to be active when the emotion is high, and our interest is engaged. The challenge is keeping the emotion and interest going in a continual way. It is easy to forget that people of color live with inequity, racism, and fear on a daily basis. The fight for racial justice for them is ever-present and not just when it feels convenient.
Saint Andrew has a history of being present in the fight for racial justice. We still have more work to do. Recently, we formed a Social Justice Task Force to respond and reflect on our church's engagement with racial justice. It can be easy to take on more than can be done or enter the process is in places that are not appropriate. Our role is not taking the lead but rather to join, support, and give encouragement to the voices of color that need it. We seek to partner with the cause of racial justice because we believe that "all people" are loved and created by God with equal love. Even though we believe all lives matter, we embrace the phrase of "Black Lives Matter" because black lives are not treated fairly in our communal systems. The "Black Lives Matter" wording is important because people of color do not feel like "All" applies to them. We hope to stay the course in helping our friends who are marginalized, fearful and angry feel supported, loved, and heard.
Each of us, including myself, must decide how we will be a part of this journey of racial justice. It is partly about education and learning more about myself and owning up to our own racial prejudices. It is partly about forging relationships with people of racial diversity that are real and not symbolic. It is partly about finding our place of action in making a real difference in our society.
I have personally taken on several actions since May 25:
Been reading books to help me better understand racism, anti-racism, and white privilege. These books are White Privilege and How To Be An Antiracist. I will soon be reading Public Faith in Action to expand my own sense of personal witness. I hope you will do your fair share of education, too. There are so many good books and articles to read that can inform, challenge, and inspire us.
I have joined and been a part for a while the "Poor People's Campaign: A National Call for Moral Revival." I have watched sermons, testimonies, and learned statistics that urge us to rise in these moments and make a difference. I hope you will explore this campaign and see your own way to support the cause.
I have sought to do all the items offered by our Social Justice Task Force on racism that have come through the Connection on Thursdays. Small achievable movements take us in the right direction and create habits that are consistent.
I have begun forging relationships in the Olathe and Johnson County area with religious colleagues that believe in this cause to have a local impact in Kansas, our county, and our local community. I have been a part of a recent Zoom call with More2 with religious leaders of different denominational background and racial diversity. I am beginning to create one-on-one relationships with these colleagues to form authentic relationships that can be lasting and not "in the moment". I encourage you to form relationships that are with people of varying background to keep you honest and not homogeneous in all our relationships.
Andrew's task force on racial justice is an important step. The task force will help the church create the next step of how we continue the work of racial justice in intentional ways. We want the work of race relations and anti-racism to weave into the efforts of our church. I am confident that the work they are doing will become the work of our entire church on a regular basis. How do we embed in our church DNA a witness of racial justice in our structures, our ministries, and our connections to our surrounding community?
The work of racial justice is a marathon and not a sprint. It is a commitment that must remain in our hearts, our minds, and through our faith going forward. If racism was embedded in the journey of country, then the undoing of racism must be embedding in the journey of our witness of faith in the days, weeks, months, and years to come. We are to be reminded, as Ibram Kendi says, "Simply not being racist isn't enough. We must actively choose to be antiracist, working to undo racism and its component policies in order to build an equitable society."
I pray we will see a day in which people will not live in fear because of the color of their skin. I pray we will see a day in which all people will be honored simply as people seeking to live a life of purpose. I prayer we will see a day when all God's people are loved for who they are.
May God give us all we need to navigate these days of anxiety with courage and hope. Grace and Peace to All. Amen!
---